You're living room says a lot about you! It often sets the mood for the entire home and it should be a reflection of your personal tastes. If our eyes are the doorways to our soul, the living room is the doorway to the home's soul and it deserves some extra attention.
Some people consider their living room in in formal terms, perfect at all times, to be entered and used only when guests come to call. For others the living room is a comfortable family gathering place.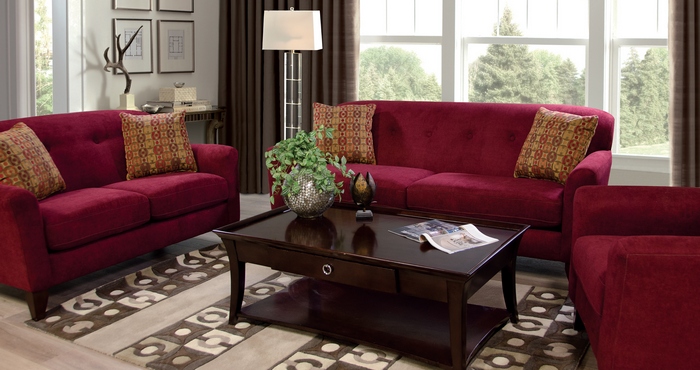 A formal living room, historically referred to as a drawing room or parlor, often showcases the homeowner's finest possessions. The décor is often symmetrical—a sofa with painting above, flanked by two end tables topped by lamps. Formal window treatments of luxurious fabrics trimmed with braid and fringe, and perfectly set pairs of occasional chairs and tables follow traditional rules of decorating. Few homes these days have space for such a perfect (and often useless) room that is more to be looked at than used.
While retaining certain elements such as beautiful millwork or lush fabrics, the more casual living room has lighter window treatments and more comfortable furniture. Studied symmetry has given way to softer lines, fewer rules, and more color.
A more casual family room style of living room has a character of nonchalance. While furniture and fabrics should be coordinated, there are few rules. Choices are governed by practicality. Furniture selection and placement is less structured. Seating around a TV is often necessary, with a table for casual eating. In today's home, the living room may even have a computer center, so a desk may have a place of prominence.

If you're looking to give your living room a "psychological makeover" that transforms the space without spending a fortune consider these tips:
It doesn't have to look perfect. Don't strive for "magazine perfection" but rather a deep, gut-level feeling of identification and comfort.
Try a new color of paint. Certain shades have universal associations. Explore the psychology of colors and choose the color choices that reflect the mood you're trying to create.
Place beloved objects in the room. Place items in the living room that remind you of happy experiences and remove objects with bad associations. Only keep things that trigger happy memories.
Let the living-room space suit your family. Perhaps your idea of the ideal living room isn't the same as your spouse or partner. Try to work something out: Communication and compromise is key.
Are you an introvert or an extrovert? Decide which personality type you have and lay out your living room accordingly. Extroverts need stimuli like a television in their living rooms; introverts need more of a sense of refuge and quiet.
Get as much sunlight into your living room as possible. Sunlight is a proven antidepressant.
Make sure your furniture is the right size. If you're not tall, don't get a couch that's very high off the ground and makes you feel short.