There are often a lot of items that can go into a living room and it's important that they are arranged in a well-proportioned way. After you've arranged your living room furniture, you'll need to begin the process of adding accessories in a balanced fashion. Here are a few tips to consider as you accessorize your living room.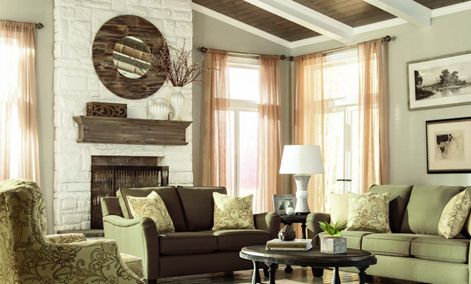 Television
If possible, multiply the diagonal width of the screen by three to determine the optimal viewing distance.
When trying to decide where to put your television remember that the bottom of the screen should be at chest level when you're seated. While hanging a television above a mantel or on a wall is a bit popular, it's not the best place and can cause you to strain your neck.
Window Treatments
When hanging a drapery rod it should be installed at least 2″ above the window frame and anywhere between 6″ and 16″ beyond each side.
Drapes and curtains should always kiss the floor. A very common decorating mistake is to hang curtains that are too short and don't reach the floor.
Artwork
The most common places to hang artwork is above your sofa. If you're going this route make sure to get a piece that isn't too large or too small. The piece of art should be about two-thirds the width of the sofa.
To prevent the art from being too low, hang the bottom of the frame about 8″ to 10″ from the top of the sofa back.
If you want to use a few smaller pieces in a group the same rule more or less applies. Just be sure that the space between each frame is the same (around 2″ to 3″ is preferable).
Whenever you're hanging art remember that it should be at eye-level. Many people make the mistake of hanging art too high.
Sconces
If you're hanging sconces on either side of a mirror or artwork be sure to leave enough space for the piece in the center to breathe. The amount will depend on the size of the space, but be sure not to overcrowd.
The rules for hanging sconces are fairly similar to those for hanging art. The placement will always depend on the size of the wall, but you want to be careful not to hang them too high. Just above eye-level is ideal.