Using a combination of computerized technology, superior wood, heavy gauge springs and excellent design England Furniture products are built to last. We use 3/4 and 7/8 inch, frame grade plywood in our frame construction. No oriented strand board! All of our frames are reinforced with generous amounts of hardwood lumber and our frame construction is considered among the best in the industry. We utilize interlocking construction to ensure maximum durability and strength. We utilize computer routers to make sure every frame is cut to exact specifications. Our arms are also engineered to last as we use 3/4 and 7/8 inch precision cut plywood reinforced with abundant amounts of hardwood. Again, no oriented strand board is used! Computerized clipping machines ensure that our spring space is constant and we double spring the ends of each loveseat and sofa with heavy gauge wire springs. We stand behind our products with a lifetime frame warranty.e
We currently create a wide range of sofas, loveseats, sectionals, sleepers, chairs, ottomans and tables. All pieces can be viewed through our online catalog where you have the ability to view individual specifications and photos. In this online catalog you also have the ability to view many pieces in different fabric styles, colors and designs. This will help you to determine which piece would best match you own interior design needs.
Our website currently has a page dedicated to helping you find the most convenient England Furniture dealer location near you.
Navigate to the England Furniture website http://www.englandfurniture.com/
Click on Where to Buy
Enter your City, State, or Zip Code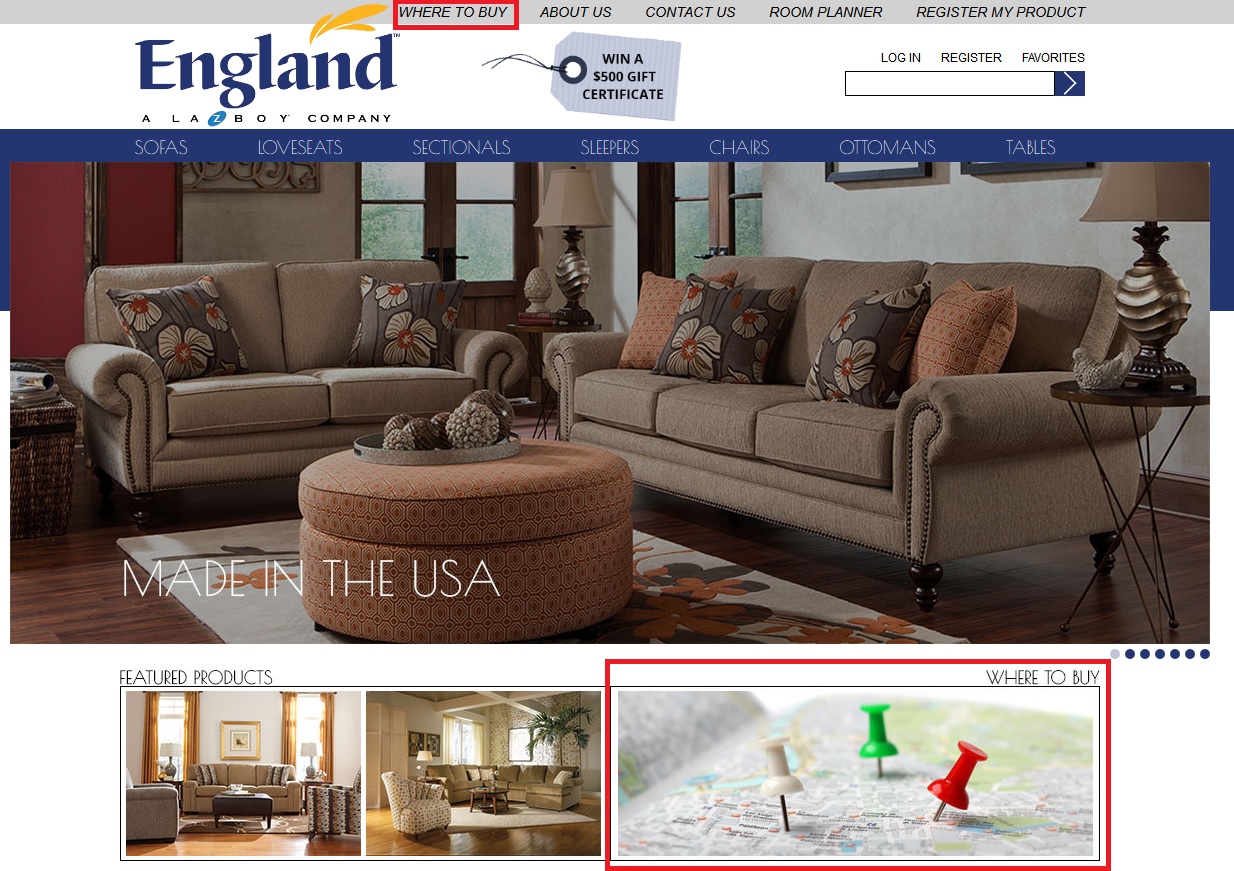 They are a number of ways you can maintain, care for and clean your upholstered England Furniture products. Routine care can notably increase the longevity of any upholstered fabrics and it all begins with weekly occurrences of vacuuming and brushing. In fact, the accumulation of dust and dirt can actually produce an abrasive action accelerating the deterioration of the fibers within the yarns that make up your upholstered fabric. Many upholstered England Furniture selections have reversible cushions. Rotating your cushions is another simple way to care for your furniture. Finally the careful application of fabric protection solutions can compliment your routine care and cleaning. Visit our England Furniture Care and Maintenance website for more information about protection solutions as well as general guidelines on caring for your England Furniture products.
England takes pride in each product they create and every England product is built to last. England provides considerable information online about its' unique manufacturing process. At England Furniture: What's Inside, for example, you can see how a given England sofa is compared to a competitor's sofa. Differences in springs, frames, padding and cushions are all highlighted at this website. Check it out!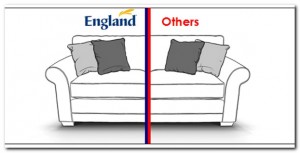 The longevity of a piece of upholstered furniture all starts with the frame. England offers a lifetime frame warranty on every piece we build. We build our frames from 3/4 and 7/8 inch frame grade plywood, reinforced with hardwood. Visit our "What's Inside" site for more information about how we build England Furniture products.
England Furniture cares about the quality of all of our products and we go to great lengths to evaluate our materials. Our fabrics, for examples, undergo 10 areas of evaluation including abrasion resistance, tear strength, seam strength and integrity, yarn ravel and deterioration and colorfastness. We not only use test results to validate compliance with industry standards but we ensure that each fabric is further evaluated for performance in relation to in-home use and customer expectations. To learn more about some of our evaluation processes visit our England Furniture Quality site.
The England Furniture journey began in 1964 when Dwight England and his brother joined forces with their father to start a new furniture company. The early years of the company had only 3 employees. By 1974 England Furniture was employing the third generation of the England family. In 1984 England Furniture saw continued success by working hard around-the-clock. England/Corsair started offering delivery promises for their products. While other companies were still taking six to twelve weeks to commit to deliveries England was able to deliver full truck loads of furniture within two weeks. That same year England received the "Entrepreneurial Company of the Year" award and grew to over two hundred employees. In 1987 Rodney England (son of Dwight England) took over as President of England Furniture. By 1994 England Furniture became part of the La-Z-Boy family. They also hit a landmark for sales this fiscal year by reaching the $106 million mark. The same year "Custom Comfort Centers" were formed showcasing England furniture to customers. In 2004 England opened their first "Custom Furniture Direct" stores. These freestanding stores broke new ground by offering their customers delivery to their homes within 21 for any frame or fabric.
Most England Furniture style selections with an upholstered fabric cover have reversible cushions as a standard provision. Reversible cushions provide substantial benefit to the longevity and functionality of not only the cover fabric but also the cushion foam. Turning the cushions over and rotating the position provides for an even distribution of any evidence of wear that may accumulate with time and use. Compression of the seat cushions and force of use may generate an ever so slight shift in the cover fabric. Over time this shift may distort the original appearance of the cushion. Turning the cushion over and utilizing the opposite side reverses the effect and helps to restore the original shape. Cushion rotation should be made bimonthly. More frequent rotations are beneficial with conditions of heavy use.